Tall Gaillard Sauce Pan - large
0189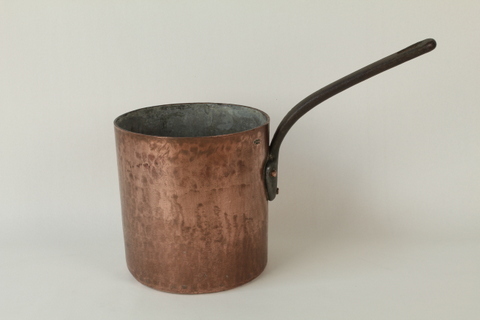 19th century. Hand-hammered. Diameter: 7.1. Height: 7.5 inches. Weight: 6 lbs. Iron handle with copper rivets: 7.9 inches. Stamp: Gaillard, Paris. Engraving: G, H
This wonderful tall sauce pan, a so called casserole à jus or casserole russe (likely named after the nested matryoshka dolls as the different sized casseroles fit together snugly , was discovered at a small market (or brocante) in the heart of France. It was created by the famed J. Gaillard of Paris. It is a beautiful example of the high quality products created at that time, made from much thicker copper than you find nowadays.
The iron handle has been fastened with copper rivets. The copper has been hammered by hand, which gives a multi-faceted shimme to the surface. It bears a stamp of 'Gaillard, Paris'. Two letters - G & H - are engraved in the pan, likely the initials of one of the previous owners.
One of the attached pictures shows the original Gaillard catalogue page.