Small Pan - Grands Magasins du Louvre
0175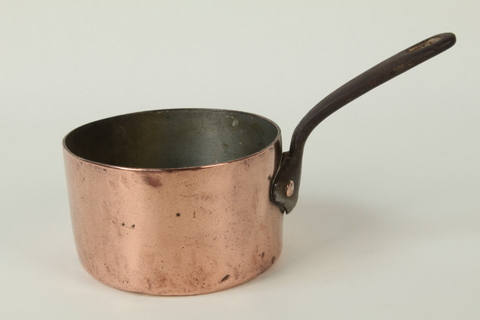 1920s. Hand-hammered. Diameter: 4.3 inches. Height: 2.8 inches. Weight: 0.4 lbs. Iron handle with copper rivets: 3.9 inches. Engraving: 'B", '11'. Stamp: 'Grands Magasins du Louvre, Paris'.
This is a very cute and small hand-hammered sauce pan. Sold by what was at the time one of the greatest department stores in the world, it was manufactured in the early decades of the previous century and shows the deep glow that is so particular to the hand-crafted pans of that age.
Above the stamp, the number '11' is engraved, which denotes the diameter of the pan in centimeters. The letter 'B' likely denotes an initial of a previous owner. The heavy copper is in excellent condition.
For more information on the history of the Grands Magasins du Louvre, have a look at our blog.