Sauce Pan - DC
0014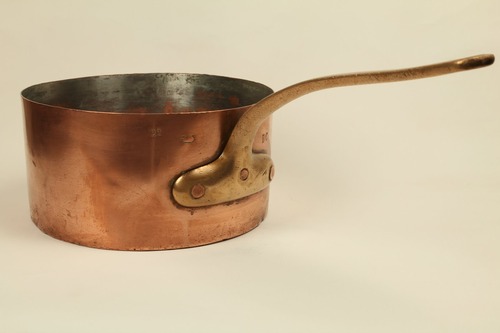 19th century. Diameter: 8.7 inches. Height: 4.3 inches. Weight: 4.4 lbs. Brass handle with copper rivets: 8.7 inches. Engravings: 22 / C / L / DC.
This sauce pan is another fine example of the 19th century French copperwork. The handle is made of brass, which gives off a deep yellow lustre. It is attached with copper rivets.
The number '22' is engraved and denotes the diameter of the pan (in centimeters). The initials relate to the previous owners of this pan, and show that it has traveled through several kitchens before ending up with it's final owner, a certain 'DC'.
This pan is part of set of five from same kitchen, indicated by the initials 'DC'. You can find these in the Sauce Pan section of the store. A discount is available for the full set.