Sauce Pan - DC
0013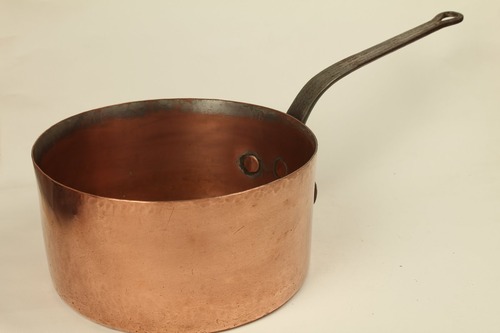 19th century. Diameter: 10.2 inches. Height: 5.1 inches. Weight: 8.2 lbs. Iron handle with copper rivets: 11.8 inches. Engravings: 26 / 4 / DC.
This sauce pan is a beautiful example of the fine copperwork being produced in 19th century France. The metal has been hammered by hand and retains a wonderful deep shine. Copper rivets were used to attach the iron handle, and these again show the tell-tale marks of the artisan's work in the small irregularities that are missing from modern machine-made pans.
The number '26' is engraved and denotes the diameter of the pan (in centimeters). The number '4' was probably used to help the kitchen staff keep track of their inventory.
This pan is part of set of five from same kitchen, indicated by the initials 'DC'. You can find these in the Sauce Pan section of the store. A discount is available for the full set.