Lid Allez Frères
0173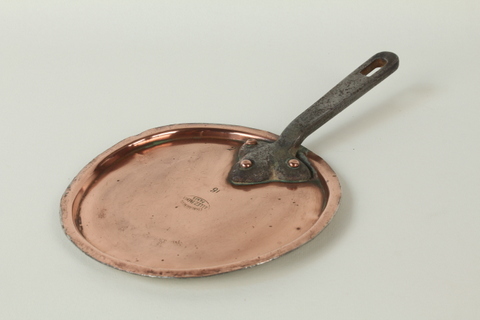 Early 1900s. Hand-hammered. Diameter: 6.3 inches. Weight: 0.9 lbs. Iron handle with copper rivets: 3.9 inches. Engraving: 16, 2. Stamp: Etablissements Allez Freres, Paris.
This is a lid for a 16-centimeter (6.3 inch) sauce or sauté pan, from the Allez Frères establishment in Paris.
The Allez Frères (a name which translates to Go Brothers) operated a store in Châtelet, just to the north of the Ile de la Cité, where the Notre Dame can be found. Their business was mostly in household goods, such as stoves, furniture, lighting and kitchen equipment. From the second decade of the twentieth century onwards, they made most of their fortune in providing furnaces that could heat water, a rare luxury for the Parisian at the time.
They remained committed to the food industry, though, for instance participating in a 1926 government campaign to promote the eating of fish. This lid is from those early 1900s when Allez Frères was one of the leading suppliers to the households of France.
One of the attached pictures shows a 1910 Allez Frères catalogue page, with their collection of copper pans.