Hand-Hammered Cake Pan (Tourtiere) with unusual lid
0178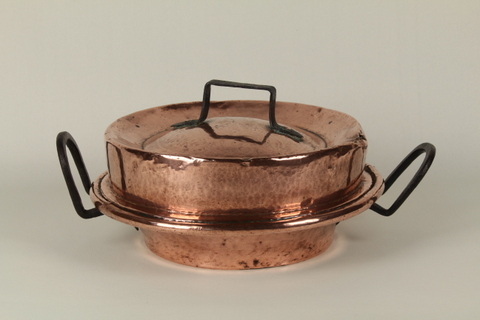 19th century. Hand-hammered with dovetails. Diameter: 7.9 inches. Height: 4.9 inches (with lid). Weight: 4.9 lbs. Iron handles with copper rivets.
A tourtiere is a pie pan with lid which could be placed in or near the hot ashes, sometimes on iron legs. This particular pan is a wonderful handmade example. It is lovingly shaped and in particular the inside of the lid has received the attentions of the artisan who decorated it with an intricate pattern.
Sturdy iron handles have been attached with copper rivets. The surface of the pan still shows the shimmer of the hammer blows, which gives it such a unique antique quality.