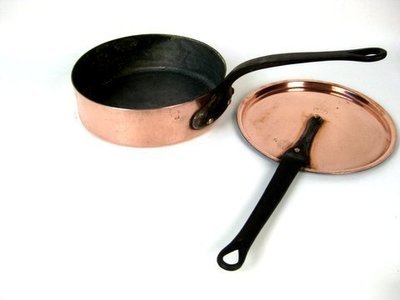 Sauteuse with Lid – Bazar de l'Hôtel de Ville
Price: 435 USD
1920s. Diameter: 8.7 inches. Height: 2.8 inches. Weight: 6 lbs. Iron handle with copper rivets: 8.7 inches. Stamp: 'BHV Paris'.
BHV is short for the Bazar de l'Hôtel de Ville, one of the pre-eminent grands magasins of Paris, the belle epoque centers of consumerism that became the blueprint for all modern department stores. The store still exists on Rue de Rivoli, right across from the Hôtel de Ville after which it was named. Originally started in 1866, it continues to be one of the busiest places in Paris on weekend, where you can buy anything from high-end light fixtures, to hammers and nails in the home improvement section, as well as of course kitchen equipment.
This pan was likely made in the 1920s and still has the original lid, which is quite unusual for pans of this age. The thick copper is beautifully shaped and the lid fits snugly. Iron handles have been attached with copper rivets.
A unique piece of Paris history.