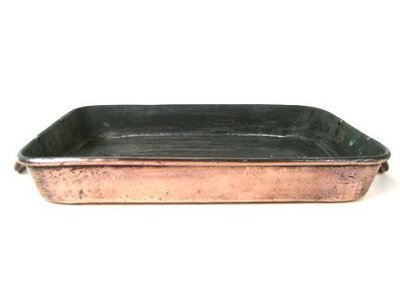 Roasting Tray
Price: 345 USD
1920s. Size: 11 x 15 inches. Height: 2.4 inches. Weight: 3.7 lbs. Copper handles with copper rivets.
This is a beautiful roasting pan, made from relatively light copper. Pans like this were not just used to roast vegetables or meat, but also to heat au bain marie. This involves filling the pan with water and placing smaller vessels in the pan to heat the contents gradually to a fixed temperature.
The pan is in a beautiful condition. There are two copper handles, one on each side, with hinges that allow them to move.
This is a great addition for any copper collection.