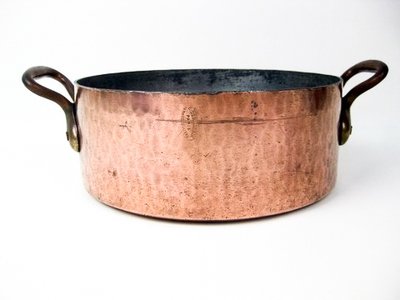 Heavy DeHillerin Pan
Price: 395 USD
1920s. Hand-hammered with dovetails. Diameter: 11.8 inches. Height: 4.7 inches. Weight: 13.2 lbs. Iron handle with copper rivets. Stamp: DeHillerin, Paris.
Dehillerin is one of the great kitchenware purveyors of France. Founded in the 1820s in Paris, it still exists today and is a favorite of many chefs.
This large casserole pan was crafted by hand from thick copper and weighs in at a hefty 13 pounds. The iron handles are attached to the vessel with hand-hammered copper rivets. Dovetailing is clearly visible on the bottom of the pan. Great for making stews or catch the eye in a country kitchen.
The pan bears a stamp from the shop in Paris where you can still find the store and its copperware-filled basement.