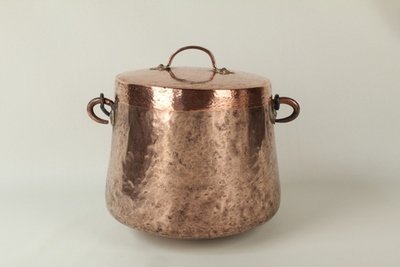 Pot with Lid
Price: 395 USD
19th century. Hand-hammered with dovetails. Diameter: 10 inches (top) – 11.8 inches (bottom). Height: 10.2 inches (with lid). Weight: 8.4 lbs. Iron handle with copper rivets. Engraving: "GP"
This is a great example of a round-bottomed stock pot, which was used to make stews or ragoût, a thick meat-based sauce.
The copper is hammered by hand and one can clearly see the jointing technique underneath the handles that was used to fashion the pieces of copper into a round shape. The lid fits snugly to seal the stew bubbling inside.
Two letters are engraved into the side of the vessel, and are likely the initials of one of the previous owners.