Receive 25% off on all orders over $100 from now until December 21st!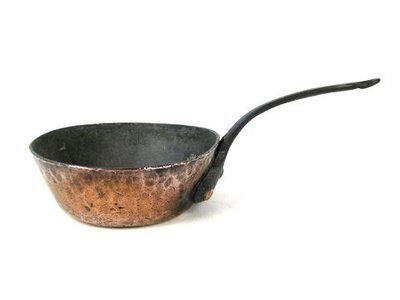 Small Saute Pan
Price: 225 USD
Early 19th century. Hand-hammered. Diameter: 6 inches (top) – 4.5 inches (bottom). Height: 2.2 inches. Weight: 2.4 lbs. Iron handle with copper rivets. Engraving: 'DA'. Stamps: 'Grand Hotel Vichy des Bains' ; '15'
This is a lovely little pan that we found at a brocante, a small village market, near the spa town of Vichy. Still renowned for its healing waters, Vichy still sees plenty of visitors at the magnificent belle epoque Parc des Sources. This particular pan came from the Grand Hotel des Bains, one of the many large establishments that lined the park.
This particular pan has a lovely sheen to its hand-hammered copper and bears several stamps. One of the hotel itself, which shows how large an establishment it must have been, since most hotels/restaurants would use simple initials instead of a full stamp. The other is of the number '15' indicating the diameter of the pan in centimeters.
The pan has had plenty of use over the years, giving it a lot of character. Great piece of history.