Receive 25% off on all orders over $100 from now until December 21st!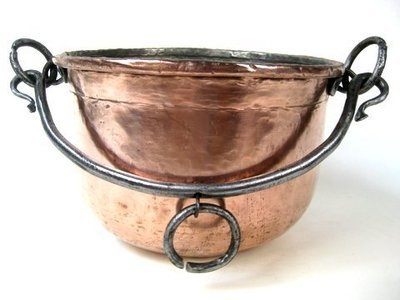 Cauldron
Price: 225 USD
19th century. Hand-hammered with dovetails. Diameter: 11 inches. Height: 7.5 inches (with handle 16 inches). Iron handle and rivets. Weight: 2.6 lbs.
An interesting early 19th century cauldron, with a large handle and ring by which it could be suspended over the fire. It has some clear hallmarks of anitque copper making in the dovetailing, by which the pieces of copper were fastened, as well as in the visible hammer-marks. The latter is something that you don't see on modern pieces which are made from rolled-copper, and they always give the material a deep multi-faceted shine.