Receive 25% off on all orders over $100 from now until December 21st!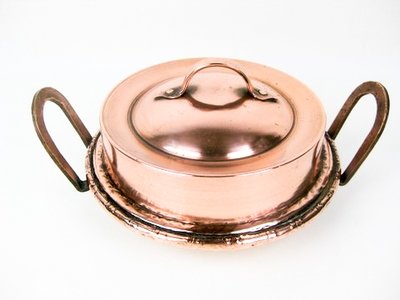 Small Cake Pan (Tourtiere)
Price: 185 USD
1930-50s. Diameter: 7.9 inches. Height: 1.9 inches (5.9 inches with lid). Weight: 3.3 lbs. Copper handles with copper rivets.
A tourtiere is a pie pan with lid which could be placed in or near the hot ashes, sometimes on iron legs. This particular pan has a wonderful profile, slightly higher than what you would usually find. A look which is complemented by the elongated copper handles which rise up on either side of the vessel.