Receive 25% off on all orders over $100 from now until December 21st!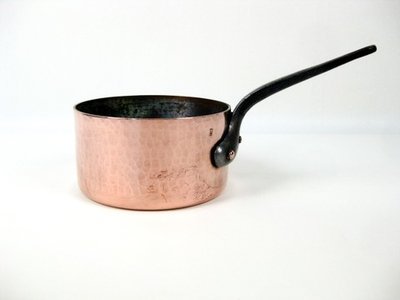 Heavy Sauce Pan
Price: 245 USD
1920s. Diameter: 7.1 inches. Height: 3.9 inches. Weight: 5.5 lbs. Iron handle with copper rivets: 7.1 inches. Mark: Crown symbol; 'France'
This medium sized pan is made from thick, heavy copper which was hand-hammered into a wonderful shape, the blows still visible under the smooth surface, which gives it a beautiful deep shine.
The pan itself was found at a small market, or brocante, in the heart of France. A great piece of history to be displayed, or after a re-tinning, to be used in the kitchen for many more years.