Receive 25% off on all orders over $100 from now until December 21st!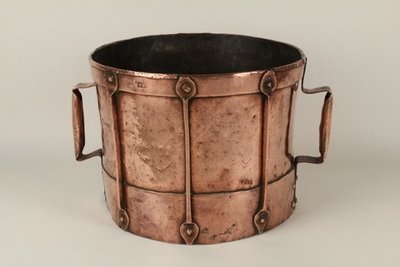 Large Stock Pot
Price: 325 USD
19th century. Diameter: 12.2 inches. Height: 9.8 inches. Weight: 8.8 lbs. Copper handles (2.2 inches) with copper rivets. Stamp: 'Imbel Fils'
This is a remarkable copper vessel. Not a typical sealed stock pot, not quite a cauldron either. The construction technique is particularly sturdy, featuring vertical ribs fastened with copper rivets, and there are two solid handles on the sides. Likely this type of pan was used to simmer bones for making stocks and broths.The bottom of the pot bears a few small holes.
A great example, with a gorgeous shimmer that you only get from a hand-hammered pan.