Receive 25% off on all orders over $100 from now until December 21st!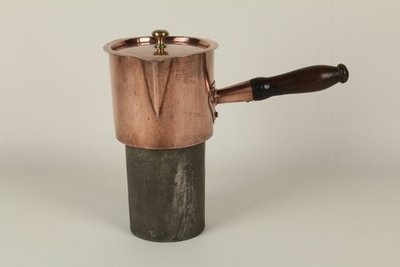 Small Pitcher for Stove
Price: 175 USD
19th century. Hand-hammered with dovetails. Diameter: 4.7 inches. Height: 9.1 inches. Weight: 2.2 lbs. Wooden handle with copper rivets: 6.3 inches.
Now this is an unusual piece. The top half is very typical of the small pitchers that are commonly used to make coffee or heat milk, but the bottom half is very different indeed. It is designed to fit snugly into an opening on a stove, which made heating the liquid inside that much easier, and much more stable, with little risk of spilling.
A unique piece.