Receive 25% off on all orders over $100 from now until December 21st!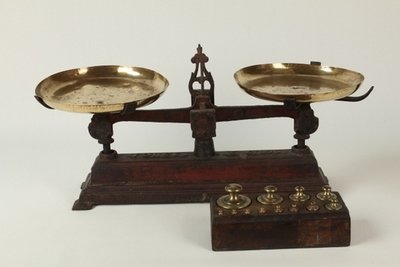 Scale with full set of weights
Price: 450 USD
1900s. Size: 14.6 x 3.9 inches. Height: 9.1 inches. Weight: 7.9 lbs. Set of weights: Size: 6.5 x 2.6 inches. Height: 2.6 inches. Weight: 2.9 lbs
This is a rare, rugged scale, that comes with a full set of 12 weights, the smallest three of which appear to be later additions. The dark iron carries two inscriptions: 'Force' and '5 Kilog' and the weights have been professionally gauged. Small pieces of copper were added where the weights were deemed to be too low, to make sure the customers got a fair deal. You can see an example of that on the final picture.
A wonderful piece.