Receive 25% off on all orders over $100 from now until December 21st!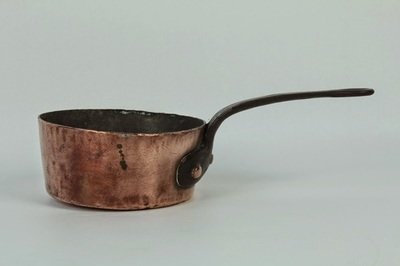 Small Sauce Pan
Price: 205 USD
19th century. Hand-hammered. Diameter: 4.9 inches (top) – 4.3 inches (bottom). Height: 2.2 inches. Weight: 1.1 lbs. Iron handle with copper rivets: 4.9 inches.
This is a very cute and small hand-hammered sauce pan. It wears its age well and the lovely thick copper has a deep glow to it. The iron handle is attached with copper rivets.
This dainty little pan has a few bumps acquired over its many years of usage, which gives it all the more elegance. A lovely piece for any collections.