Receive 25% off on all orders over $100 from now until December 21st!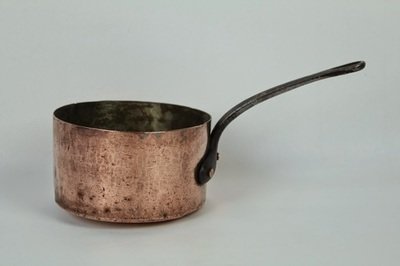 Sauce Pan – Létang Fils
Price: 265 USD
1900s. Hand-hammered. Diameter: 6.5 inches. Height: 3.5 inches. Weight: 2.6 lbs. Iron handle with copper rivets: 6.3 inches. Engraving: '1'; '2'; '0'. Stamp: 'Létang fils. 108 R Vielle du Temple, Paris'
This is a great early example from the company of Létang Fils of Paris. Originally founded in 1832, the company has made a name for itself as one of the most sought after manufacturers of chocolate moulds. Over the course of their almost 200 year history – yes, they are still active today – they also created copper vessels, as evinced by this lovely little pan.
Made from heavy hand-hammered copper, it sports an iron handle, fastened with thick copper rivets. A stamp denotes the company name and Paris address, where they moved in 1892 (it currently houses an art book shop).