Receive 25% off on all orders over $100 from now until December 21st!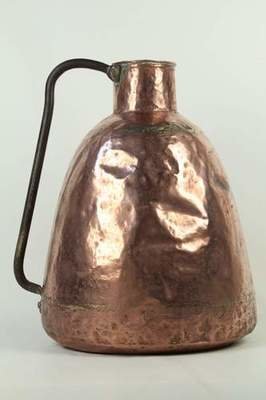 Large Copper Jug
Price: 255 USD
19th century. Hand-hammered with dovetails. Diameter: 13.4 inches – neck 3.9 inches. Height: 18.1 inches. Weight: 7.7 lbs. Iron handle with copper rivets.
As we say more often, some pieces of history come down to us pristine through the centuries, almost new to the touch, and then are some pieces which show the passing of time in all its glory. This large copper jug is one of the latter. Once used for carrying water or other liquids, it has seen a lot of use over the years, evident in the many small dents and repairs that can be found across the surface.
The copper is hammered by hand, and joint with dovetails, which are clearly visible on on the bottom of the vessel. There are several repairs along the bottom. The iron handle is attached with copper rivets that were clearly hammered in place by hand as well.
This is a lovely piece of history, full of stories to tell.