Receive 25% off on all orders over $100 from now until December 21st!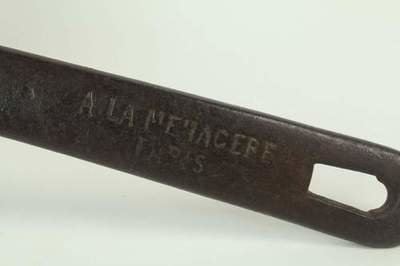 A La Ménagère Saute Pan
Price: 345 USD
Around 1900. Hand-hammered. Diameter: 9.1 inches. Height: 2.8 inches. Weight: 3.7 lbs. Iron handle with copper rivets: 9.1 inches. Engraving: 23. Stamp on handle: A La Menagere Paris.
This sauté pan is distinguished by the great quality of the copper, of which the hand-hammered surface gives off a lovely deep red sheen. It also has a uniquely high handle, quite uncommon for the time, which boasts an engraving of A La Ménagère, a trailblazing department store from the nineteenth century.
The A La Ménagère story starts all the way back in the first half of the 19th century, when ironware merchant André-Martin Labbé created a new shopping concept, the bazar. Bringing together some 300 individual merchants in a 5,000 square meter building, it intended to be a one-stop-shop for Paris' discerning citizens. To make the experience as comfortable as possible restaurants, cafes and exhibition spaces were added in the six-story structure. It was to be a forerunner for the later Grands Magasins, the large department stores, such as LaFayette or Bonne Marché, which still exist in Paris today.
Due to financial difficulties the store was upgraded to a true Grand Magasin in 1863 under the name A La Ménagère. It operated under that name offering a bewildering array of products, including kitchen equipment, until 1930, when a fire destroyed the entire structure. It would not survive this calamity. The store closed and the plot remained empty until 1955 when La Poste purchased it to build a new post office.
One of the pictures shows the Parisian store in its heyday.