Receive 25% off on all orders over $100 from now until December 21st!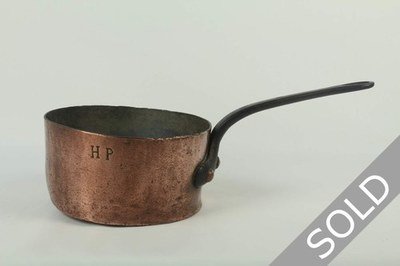 Sauce Pan – Hôtel du Parc, Vichy
Price: 475 USD
19th century. Diameter: 8.3 inches. Height: 4.3 inches. Weight: 5.7 lbs. Iron Handle with copper rivets: 8.5 inches. Stamp: Hotel du Parc, Vichy. Engravings: HP 20.
Copper pans may be used for hundreds of years and due to this longevity they have often been silent witnesses to history. That history can hide in the smallest of details. For this particular pan it is revealed in a couple of remarkable stamps and engravings. There is no maker's mark as such, but the hotel in which the pan was used had its name and initials engraved. Hôtel du Parc in Vichy.
For those with an interest in twentieth-century European history, that name probably rings a bell. In the early years of the Second World War, after the German army had successfully invaded France, one third of the country was to be administrated for the next four years by a collaborator regime ruled by Marshall Philippe Pétain. The administration resided in the spa town of Vichy, which became synonymous with the regime. Their headquarters were located in one of the most sumptuous hotels in the center of town: Hôtel du Parc.
After the war the hotel was closed down, the building converted into apartments, and most likely its furnishings, including the kitchen equipment was sold around this time as well. This pan resurfaced some sixty years later in a small town some 100 kilometers to the northwest of Vichy. It is made from exceptionally thick copper, and has an almost pockmarked look that gives the copper a deep reddish glow.
It's an object with a story to tell.