Receive 25% off on all orders over $100 from now until December 21st!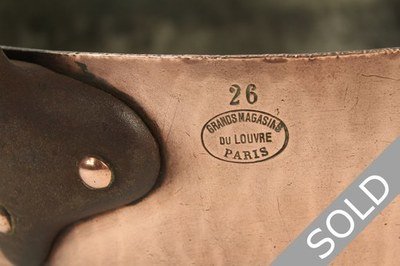 Large Sauteuse – Grands Magasins du Louvre
Price: 395 USD
1920s. Hand-hammered. Diameter: 10.2 inches. Height: 3 inches. Weight: 5.5 lbs. Iron handle with copper rivets: 10.6 inches. Engraving: '26'. Stamp: 'Grands Magasins du Louvre, Paris'.
This is a lovely hand-hammered saute pan, appearing as a sauteuse in the store's 1911 catalogue. Sold by what was at the time one of the greatest department stores in the world, it was manufactured in the early decades of the previous century and shows the deep glow that is so particular to the hand-crafted pans of that age.
Above the stamp, the number '26' is engraved, which denotes the diameter of the pan in centimeters. The bottom of the pan has become slightly irregular with use, but otherwise the heavy copper pan is in excellent condition.
For more information on the history of the Grands Magasins du Louvre, have a look at our blog.