Receive 25% off on all orders over $100 from now until December 21st!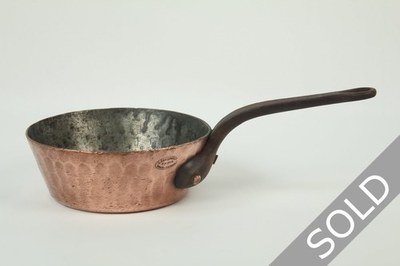 Small J. Jacquotot Saute Pan
Price: 350 USD
1920s. Hand-hammered. Diameter: 7.1 inches (top) 5.3 inches (bottom). Height: 2.8 inches. Weight: 3.1 lbs. Iron handle with copper rivets: 6.7 inches. Engraving: 18. Stamp: J. Jacquotot, Paris.
This is a beautiful example of a hand-hammered saute pan and it is in excellent condition. The pan was manufactured by the Paris-based firm of J. Jacquotot and bears a stamp with its Rue de Grenelle address. Jacquotot was in the early 1900s one of the leading suppliers of kitchen equipment to the restaurants and hotels of France, and its pans were known for the solid quality of the copper.
This hand-hammered sauteuse has been exquisitely finished and the surface shine has an almost kaleidoscopic effect to it. The copper rivets are exceptionally thick and have been hammered by hand as well. The number '18' which is stamped next to the handle refers to the diameter of the pan in centimeters.
One of the attached pictures shows a page from the 1925 Jacquotot catalogue listing similar pans sold at the time.
For more information on the history of J. Jacquotot, please have a look at our blog.