Receive 25% off on all orders over $100 from now until December 21st!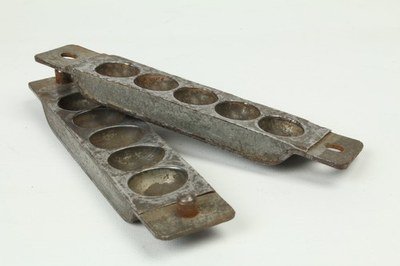 Létang Chocolate Mold – Easter Eggs (200 1)
Price: 145 USD
Early 20th century. Size: 7.3 x 2.4 inches Weight: 0.7 lbs. Inscription: Letang Fils, 108 Rue Vieille du Temple, Paris. Mold number: 200 1
This chocolate mold was made by the famous Létang company, which was founded in 1832 by Jean-Baptiste Létang in Paris. In 1891 the company moved to its location on 108, Rue Vieille du Temple. By that time the son had joined his father in the workshop and 'Fils' had been added to the name. Ownership of the company was handed down from generation to generation and would remain in the family until 1964. Today Létang is considered to be one of the greatest makers of chocolate molds, and their products are highly prized collectibles.