Receive 25% off on all orders over $100 from now until December 21st!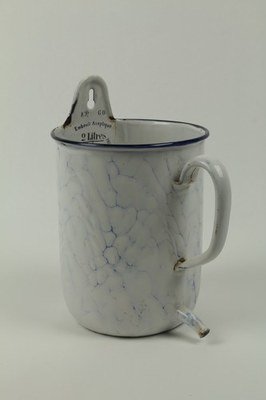 White Enamel Bidet
Price: 65 USD
1950s. Diameter: 5.5 inches. Height: 7.1 inches. Weight: 1.3 lbs. Holds 2 liters.
Here is an unusual find. What at first appears to be a water jug, with measurements written on the inside was actually used for an entirely different purpose. A small rubber hose would be attached to the spout at the bottom of the vessel and would facilitate the sanitary requirements of the owner. In other words, a hand-held bidet, or an Embouti Aseptique as it was called at the time.